Karate Studio Software, Easy-to-Use, Fully-Featured
Black Belt Membership Software - Keeps track of all members, their payments, attendance tracking, ranking, promotions, and more!!!! Keeps track of who has done what. No other software allows you to actually input data for each member yourself. Most karate software uses everyone's information for everyone's ranking. Which makes it hard to calculate who should be promoted to the next belt - Black Belt Membership Software is designed for Karate school owners to make their jobs easier.
Level up Tools
Level up tools for Your karate studio business. Make data-driven business decisions with summaries and graphs of income, attendance tracking, leads generated, class booking, private lessons scheduling across multiple instructors.
Digital Waivers & eSignature
Our easy-to-use software makes digital waivers a snap. Integrating with Black Belt, our online registration & membership platform, saves time and eliminates the hassle of printing, storing or filing paper waivers both online and at your facility..
Karate Belt Promotions
Black Belt allows you to save rankings and belt exam results of each member. You can pre-define your belts, colors, requirements, and exam parameters into the System
Mass Communication
Staying in touch with your members will be the best choice you will make in the communication sector of your Karate business. Our communication feature allows you to do it easily and feasibly.
Karate Billing Simplify
Never let your profits slip away: are you running a huge business and cant personally collect payments from your members
Automated Billing

Set up auto recurring payments and terms that are customized for your Karate business.

Next Day Funding

Fast deposits, Transparent pricing & no surprise fees. Know exactly what you pay and get paid fast.

Automated Card Updater

Ensure uninterrupted payments, particularly those with recurring payments, by seamlessly updating card-on-file account information

Cashier

Take multi-payments with cashier. Processor payments such as Cash, Checks, Credit Card & ACH Transactions in one place.

Online payments

Members simply pay their bills online with Black Belt payment portal. Black Belt send out an email with a link to access their open payments.
Access Our Demo Video
Schedule A Demo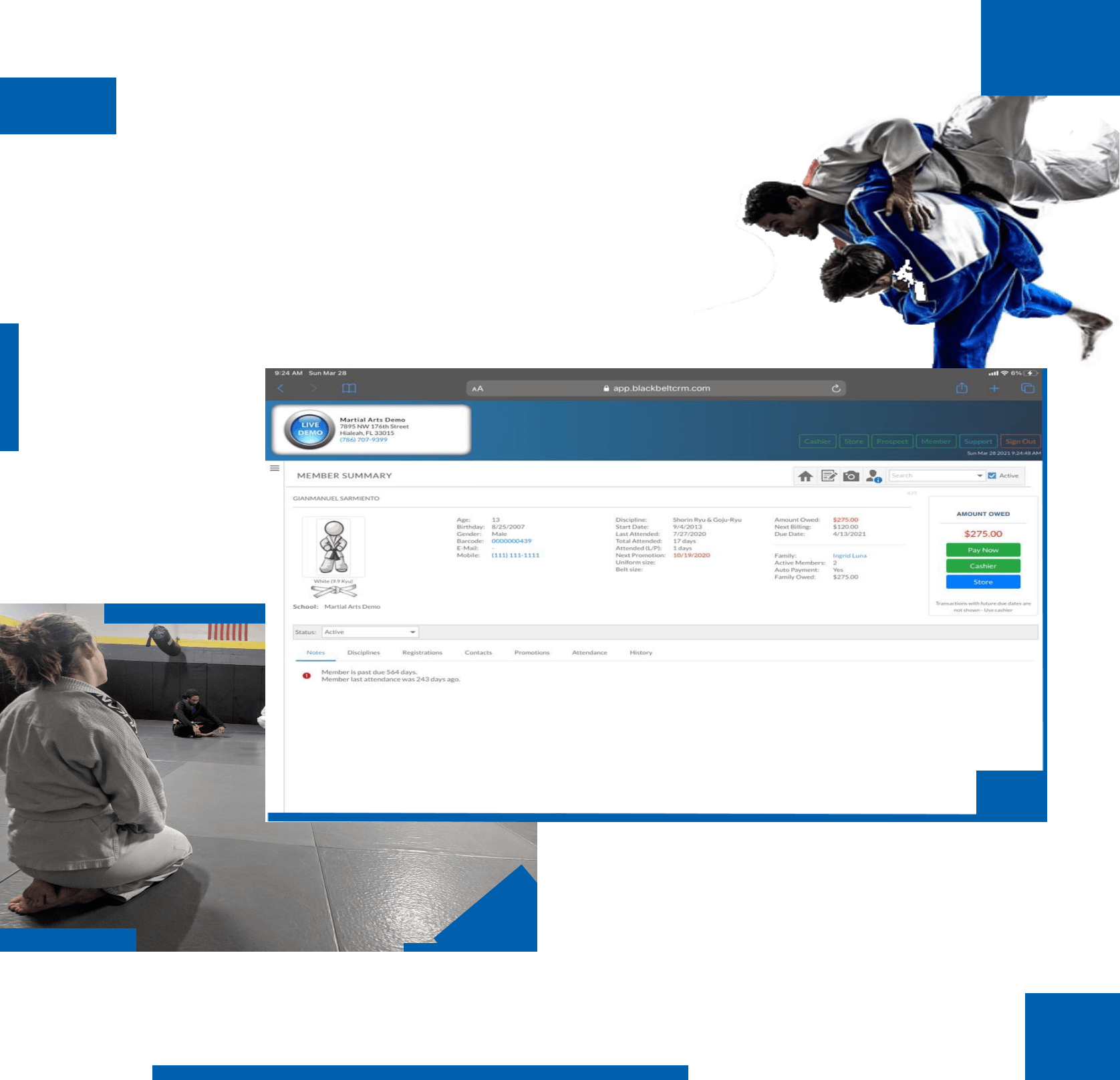 Karate Membership CRM Tools
The Black Belt Membership Software CRM Tools can be used by any karate club. The tools provide reports on memberships, events and attendance as well as other areas such as free server space to make your processes easier. Individual profiles can be configured to include customer descriptions and pictures as well as information relating to where they trained previously and the classes they're currently enrolled in.
You can check the following information of any member stored in the System:
Name, Address, Family names, Mobile, Home, Work, Work Phones, Emails
Member & Family history
Attendance History
Multiple Contacts
Payment History
At Black Belt Mambership, we strive to make your lives easier. Our software covers 99% of what you need for running a Karate dojo, and make it easy for your staff to do repetitive tasks with ease. The CRM portion of this tool is the first thing that we developed. It allows you to know each member's attendance history, health requirements, payment delays and to easily follow-up with those who missed a class. This tool is 100% cloud based, so you can access your data from anywhere as long as you have an internet connection.
Access Our Demo Video
Schedule A Demo
LEVEL UP your Karate School with Opportunities!
Black Belt Opportunities is a tool for managing your school leads generated. Opportunities will help you keep track of which prospects are open to hearing about your martial arts school, where they currently live, ages, and personal interests.
Leads generated webform for your Karate Studio website

Collect the contact information of interested customers.

Lead and Trial Management

Collect the contact information of interested customers. Nurture your leads from interest to fully fledged members.
Access Our Demo Video
Schedule A Demo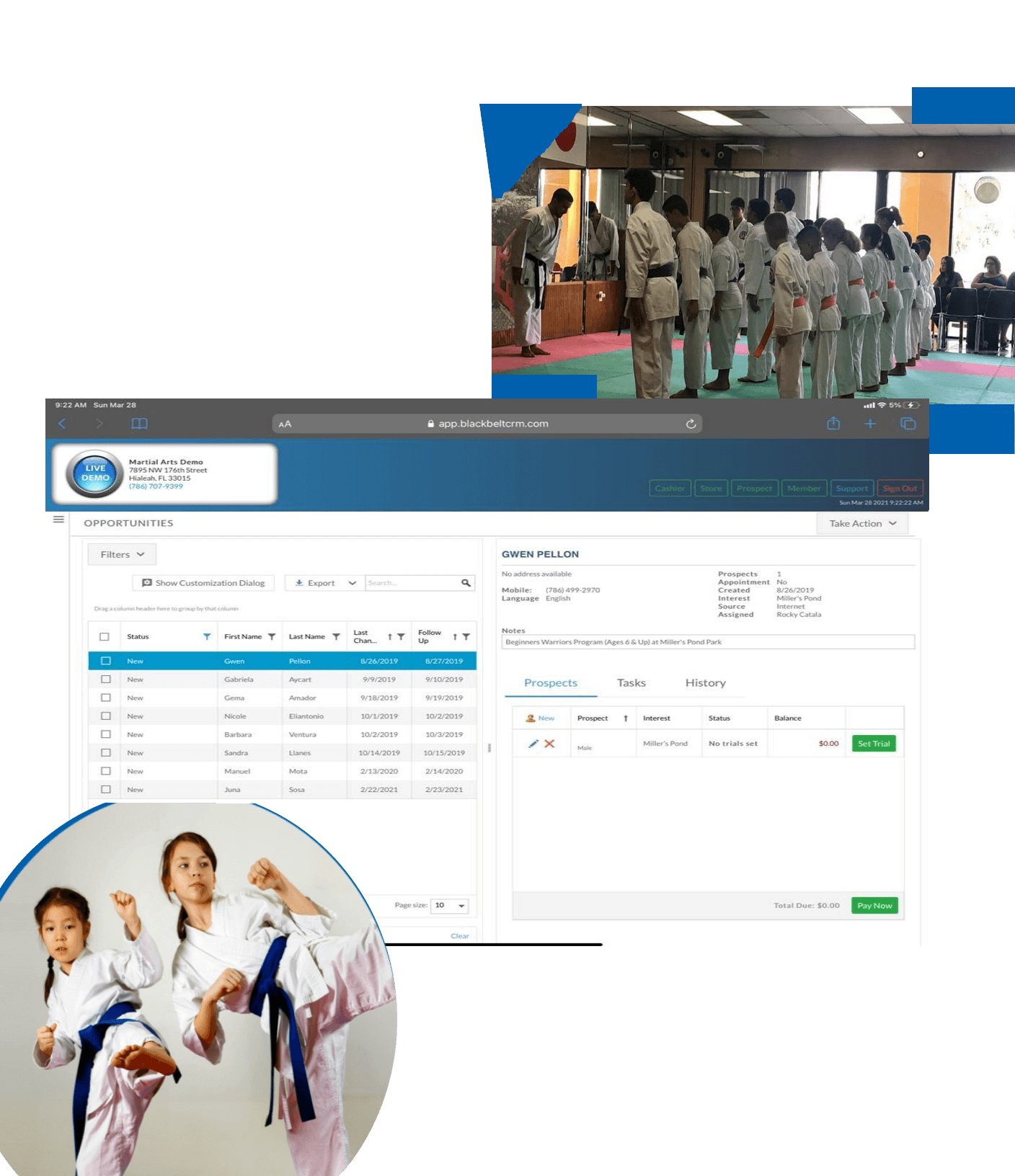 Video Testimonials

MASTER DANIEL OSORIO
Owner of United Martial Arts School Doral & Miami, FL
Recommend to any martial arts school—one of the best martial arts software in the market. I have been using Black Belt Membership software for my 2 TKD locations for the past 5 years. The multi-discipline & ranking system feature has to help me collect all my exam fees with ease. Their customer service is very responsive, always able to have someone on the phone.
Great software for martial arts to tracking membership, students' progress and billing. The Martial arts software is easy to use, membership tracking is excellent and when there is an issue the customer support is very responsive.
Frank P
Palm Coast, FL
This is one of the best Martial Arts software in the market. It has a low rate and it's not a complex system to use. The new design works on my iPhone and iPad beautifully.
Orlando C
Miami, FL
Great Martial arts software, easy to use, great customer service. Will definitely recommend...
Rima R
Buford, GA
Excellent software for a martial arts program! Makes my life easy by keeping up with payments and attendance. Keeps my martial arts students organized.
Nancy J
Omabma, NE
Black Belt Membership is one of the Best Martial Arts Software. Fantastic for keeping attendance and scheduling events, such as belt testing. Belt testing has never been easier for me. The automated billing & messaging feature is also an amazing as Martial Arts school owner one the Best Martial Arts Software.
Amy L
New York, NY
Karate Studio Software Features click on any for more information