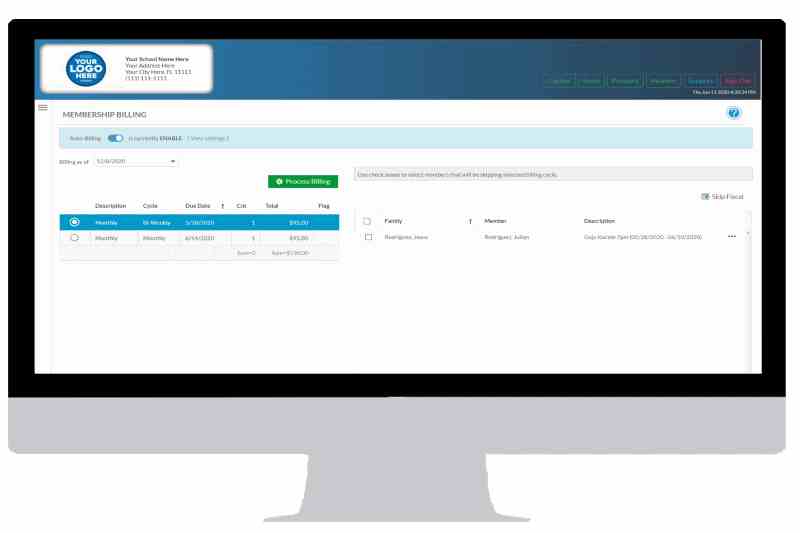 Never let your profits slip away!
Never let your profits slip away: are you running a business and cant personally collect payments from your members? Worry no more.
Black Belt Membership Software is here to solve this issue as well. Using this software, you can set up your automatic billing functionality. Simply tell the Black Belt Membership Software about how many days you want to process the billing before the due date of the payment. Save this information and leave the rest to the software!
Automated Billing
Set up auto recurring payments and terms that are customized for your martial arts business.
Next Day Funding
Fast deposits, Transparent pricing & no surprise fees. Know exactly what you pay and get paid fast.
Automated Card Updater
Ensure uninterrupted payments, particularly those with recurring payments, by seamlessly updating card-on-file account information
Cashier
Take multi-payments with cashier. Processor payments such as Cash, Checks, Credit Card & ACH Transactions in one place.
Online payments
Members simply pay their bills online with Black Belt payment portal. Black Belt send out an email with a link to access their open payments.
Our Martial Arts automatic billing and software is here to give you a foolproof payment managing system that protects your profits the right way.
Black Belt will, on its own, generate invoices and will email them to your customers upon the arrival of the appointed date. You will get notified through an email about the customers who have been sent the invoice.
Black Belt doesn't stop there as well! It will automatically charge the credit cards or ACH/EFT of those customers who have been set to Autopay previously. Say a farewell to manual processes of billing and get the advantage of automation all set in Black Belt software. All this is done by Black Belt's auto-billing and Merchant Feature.
Family Statement:
are your members requesting a copy of their latest outstanding balance? Just print it right at the spot or send them through an email using Martial Arts Software in easy to follow steps.
Collections:
Keep track of what is owed and how long it is past due through the Collections feature of the Black Belt system. You can see balances due to transactions that are past due by Days.
Collections Letters:
through Black Belt Martial Arts Software, you can send out emails or print out reminders written in a friendly tone. Through this System, you can send collection letters easily as well.
Martial Arts Credit Card & ACH Processing Payment
No need to wait to collect your funds individually now. Black Belt has got all in control by automatically billing and processing payments on a single click by you. The members and family can give their Credit Cards or E-Check details to the System, and their monthly dues can be processed without a hassle. Funds can this way be deposited directly into your account. There is a merchant account as well. You can find more about this account by contacting us at our email: Info@Anexan.com or call us at Tel: 786-707-9399.
Martial Arts Software Features click on any for more information